Cameron Diffley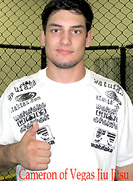 Age: 25
Height: 6' 1"
Weight: 195lb
BJJ Black Belt under Ricardo Pires

Cameron was born in Newport Beach, California. Diffley moved to Henderson, Nevada where he has lived since the age of 8. Diffley grew up playing sports such as baseball, basketball and soccer. He became involved in the martial arts at a young age training in Karate, Tae Kwon Do, Jeet Kune Do, and Kickboxing. Diffley was introduced to Brazilian Jiu Jitsu by a friend who was a student of
Ricardo Pires at the Las Vegas Combat Club.

January 2003 - began training under famed Brazilian Jiu Jitsu and MMA coach Ricardo Pires at the Las Vegas Combat Club. Diffley began competing less than two months after beginning training at the Copa Pacifica. After his first experience competing Diffley's obsession with Jiu Jitsu began as he began mopping the mats to pay his gym fees while training morning and evening six days a week.

July 2003 - After 6 months of training received his blue belt from Ricardo Pires and Sergio Penha.

November 2003 - began training under famed Brazilian Jiu-Jitsu competitor Sergio Penha when he moved to Las Vegas to become head instructor at the Las Vegas Combat Club.

During this time he was a training partner to MMA competitors Brian Shepard, Forrest Griffin, Rick Davis, Marcus Sursa, Heath Herring, Frank Mir and Alex Schoenauer

January 2006 - began teaching at Las Vegas Combat Club by taking over the role of the kid's instructor. As time went on he began taking on the responsibilityof teaching the adult classes part time.
May 2006 - received his purple belt from Ricardo Pires & Sergio Penha.

April 2007 - Became the head instructor of the Las Vegas Combat Club.

August 2007 - received his Brown belt from Ricardo Pires. He also started his own Academy,Legion Brazilian Jiu Jitsu, still remaining under the tutelage of Ricardo Pires.
January 2008 - Brazilian Jiu Jitsu Coach for Team Forrest on Spike TVs hit show The Ultimate Fighter 7.
June 2008 - Recieved Black Belt from Ricardo Pires after 5 years of training BJJ.
Interviews
Competition History

2nd Place Grapplers Quest UFC Fan Expo - Advanced Division
Winner Superfight 15th Grapplers Quest Las Vegas
2nd Place 14th Grapplers Quest West - Advanced Division
1st Place Naga Las Vegas - Weight Advanced Division
1st Place OTM USA Open of Sub Grappling - Weight Advanced Div
1st Place 13th Grapplers Quest West - Weight Advanced Division
3rd Place 13th Grapplers Quest West - Open Weight Advanced
2nd Place 12th Grapplers Quest West - Advanced Division
1st Place 2007 Mr.Olympia/Fitness Grappling Tournament
1st Place Aggro Games Absolute Division
3rd Place USA Wrestling Nationals Grappling Division
1st Place Pan Ams of No Gi - Advanced Division
1st Place CBJJ Pan American - Purple Belt
1st Place CBJJ Pan American No-Gi - Purple Belt
1st Place NAGA Las Vegas - Advanced Division
1st Place NAGA Las Vegas - Purple Belt
3rd Place American Internationals No Gi - Advanced
3rd Place American Internationals - Purple Belt
1st Place 10th Grapplers Quest - Purple Belt
3rd Place 10th Grapplers Quest - Advanced Division
ADCC Trials Competitor
1st Place Pan Ams of No Gi - Advanced Division
1st Place 9th Grapplers Quest West - Advanced Division
2nd Place - CBJJ Pan American - Blue Belt
2nd Place - 10th US Open - Blue Belt
1st Place Nevertap- Advanced Division
3x Grapplers Quest Intermediate 1st Place